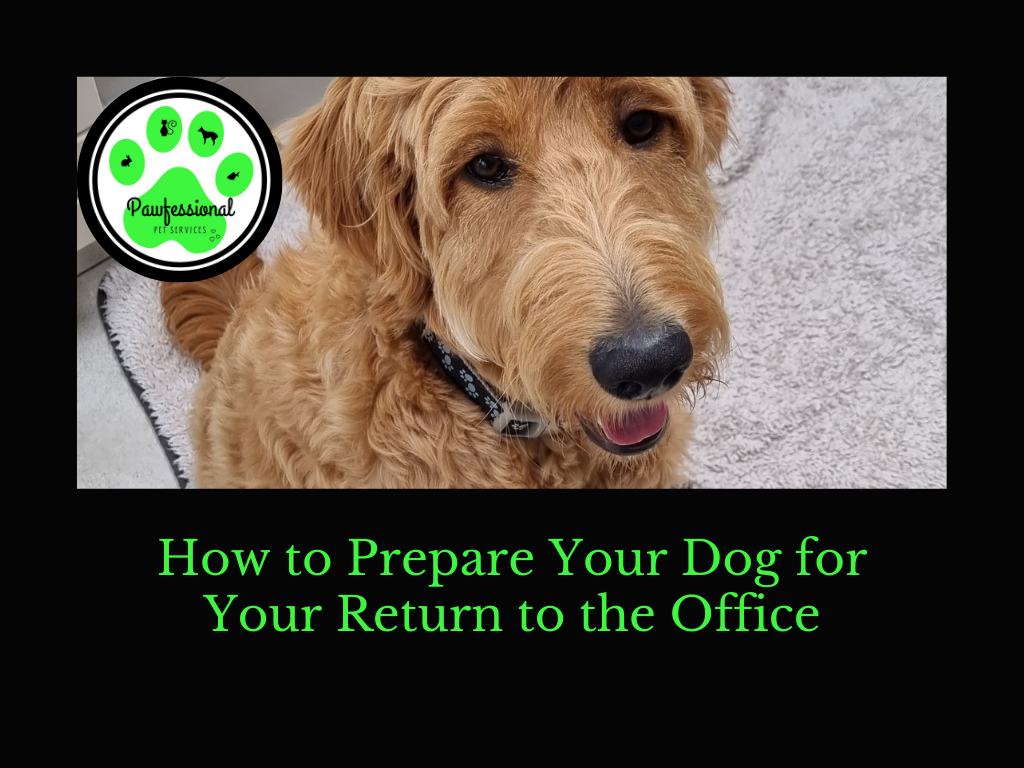 Did you get a dog during lockdown? Are you heading back to the office now and worried about leaving your dog on their own for the first time? Read on for some helpful tips to smooth the transition from working-from-home to not-working-from-home for you and your dog.
Leave Your Dog Alone for Short Periods of Time
See how you go with leaving your dog on their own for short periods of time at first, about 5 to 10 minutes, then building up to longer stretches over the course of several weeks. The longest you should leave your dog alone is 4 hours; 6 hours on occasion if it is unavoidable.
As long as your dog is already familiar with them and you are confident that there isn't any choking hazard, you can leave chews and enrichment, such as stuffed Kong or K9 Connectables (see the end of this post for a discount code), Lickimats with easily licked or mashed food, or animal-based treats to settle your dog while you're away.
Leave a camera or monitor recording your dog so that you can see if your dog is showing any signs of separation anxiety or distress while being left alone during these short periods of time. Signs of distress can include:
Vocalisations/howling
Destruction, particularly at exits, such as doorways and windows
Involuntary urination and defecation
If your dog is showing these signs, you may need to call in the help of a trainer (such as ourselves!). Using behaviour modification, we can help your dog to feel more confident about being left alone.
When your dog does well with being left on their own for a few hours at a time, they will just need to have a pet sitter to visit them or a dog walker to take them out for a walk once a day while you are at work.
Regular visits and walks will keep your dog calm and happy as they will get their toilet break, the exercise they need, and interaction. In addition, this will save you the trouble of having to leave the office in the middle of your work day to check on your dog. When you return in the evening, your dog will be delighted to see you, as opposed to anxious, as they will have had their needs met.
A pet sitting or dog walking service is also ideal for dogs that may not do well in group situations, such as in a daycare facility.
When looking for pet sitters or dog walkers, we recommend that you meet the person first. A free meet and greet pre-booking is standard. This will allow you to gauge if the pet sitter or walker is a good fit for you and your dog. Watch your dog's body language and see how the person interacts with your dog.
Pet Sitter and Dog Walker Interview Questions
When interviewing a potential pet sitter or dog walker, ask the following questions:
What are your qualifications?
What recent courses have you done?
Are you insured?
How much experience do you have with dogs?
How many dogs do you take out at a time?
Where do you take the dogs for a walk?
How do you transport the dogs?
How would you describe your methods?
How would you respond if our dog came across an aggressive dog?
Do you let dogs off the lead? If so, where?
What equipment do you use?
What is your availability?
How can I book?
What is the payment schedule?
Our Services
Here at Pawfessional.ie, we offer a range of pet sitting and dog walking services, including:
Puppy visits (€25/hour)
Solo walks (€25/hour)
Solo training walks (from €25/half hour)
Group walks (from €18/hour)
Adventure walks (€40/1.5 hours)
If you would like to book a walk, please click here.

We are highly qualified and experienced pet professionals and you can be assured that your dog will be in safe hands with us. Meredith is a member of the Institute of Modern Dog Trainers (IMDT) as well as the Association of Pet Dog Trainers (APDT), Ireland, and holds an MSc in Animal Behaviour. James has an Executive Diploma in Zoology and certification in Canine Body Language and Canine First Aid, as well as experience of working in rescue with the DSPCA. Abigail has completed her certificate in Canine Body Language and is currently doing her course in Canine First Aid. Combined, we have over ten years of pet professional experience. For more information about our services, please go here.
Doggie Daycare
If your dog does well in group situations and needs stimulation and company for the entire day, then a reputable daycare may be the solution. We advise booking this type of service early to avoid disappointment as there are often waiting lists. Also, most daycare facilities do not take dogs five days a week, so if you are going back to the office full-time, it's best to have a combination of a dog walking service and some days in daycare.
A good daycare facility will have a variety of activities, including downtime and naptime. We personally recommend the following local daycare facilities:
The number of people adopting dogs in Ireland increased by a whopping 134% in 2020, according to dog charity, Dogs Trust. Now that people are returning to 'normal' and going back to work in the office, there is a large number of people requesting to surrender their dog. This is a very sad situation but with a little preparation and support, it can be avoided.
Remember, if you are going back to the office and leaving your dog alone for the first time:
Ease your dog into the new routine gradually
Hire a pet sitter or dog walker
Research and book a dog daycare facility in your area, if needed.
Meredith, James and Abigail 🐾
P.S.: Use code pawfessional10 to get 10% off K9 Connectables!