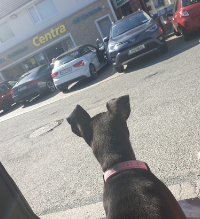 As one of many people who have recently gotten puppies directly before the outbreak and subsequent lockdown and a dog trainer, I find myself thinking about socialisation more than ever. The important socialisation period for puppies is up to about 16 weeks, which may vary depending on the breed and individual, but what is so critical about this period is quality exposure to various things they will come across in the real world (especially for those pups who haven't experienced much of the outside world pre-virus). While we still need to keep safe, there are things you can do to start getting your pup used to the world, so that once this is over and we can get out again, they won't be worried about the sights, smells, and sounds.
So, how can we help them?
Well, we are still allowed go for walks and essential trips to the grocery store and similar places, so bringing your pup along on those trips would be highly recommended. While one person goes in to do the shop, another can sit in the car with pup and watch traffic, people walking by, and potentially other dogs who are brought along on walks. You don't have to interact with people and other dogs for it to be a quality experience. Letting pup watch from a bit of a distance, not only helps them to feel that bit safer as they aren't required to interact, but also lets them observe all of the scene rather than feeling pressured or worried.
Checking in with pup periodically to ensure he or she is still happy to watch and not stressed out. And remember, socialization is about keeping them feeling safe when experiencing new things.
At home.
You can find YouTube playlists of various sounds, as well, such as traffic noises, babies crying, and fireworks (HIGHLY IMPORTANT). Dogs Trust also do a good sound socialisation playlist. Try setting up a confidence course with things you find around the house! See our YouTube video here. Let pup walk over different surfaces and investigate strangely shaped items. We want to build up a resilient pup who isn't worried about new things once this is over.
There's really no limit to the socialisation experiences we can create without having to see loads of people right now. Feel free to contact us at 0834810569 or email if you need a bit more guidance. Happy socialising, pawls!